Cloud storage has one important advantage. We can access the files stored on the cloud from anywhere on any device with an internet connection. So what's about the security of the files stored? If you have concern about your important files stored on the cloud, here I can tell you how to safeguard your files. Encrypt and password protect your important files before storing it on the cloud. No matter which cloud storage service you are using. Here I am introducing a free software called BoxCryptor that you can use seamlessly on Dropbox, Google Drive, SkyDrive, Box or SugarSync to protect files.
How to Secure Important Cloud Storage Files with AES-256 Standard to Encryption
Below are the steps to encrypt your files before storing it on to the cloud and thus ensure protection of your files. Also the following is the complete step to use BoxCryptor to encrypt and decrypt data.
Download BoxCryptor for free. It's available for all major OS.
Install the software and reboot your system.
Run BoxCryptor and you will see the Welcome Window of BoxCryptor. Click on "Create a new encrypted folder". You will see a Window similar to the one below (screenshot 1).
Select your desired storage location. You can choose your installed cloud storage service. For example here I am choosing SkyDrive.
Give a Folder Name in the filed and click Next.
Choose a New Device Letter.
You may need to provide a password. Click Finish.
Now you can see one folder in the SkyDrive or your opted Cloud Drive, which is the encrypted one.
Also when you go to My Computer on your PC there you can see a new BoxCryptor Drive.
Drag and Drop the files you want to encrypt on to the folder mentioned in step 8. The file on this folder can not open as it is encrypted. It will by synced online.
You can access the encrypted file through the BoxCryptor Drive mentioned on step 9 that's from My Computer.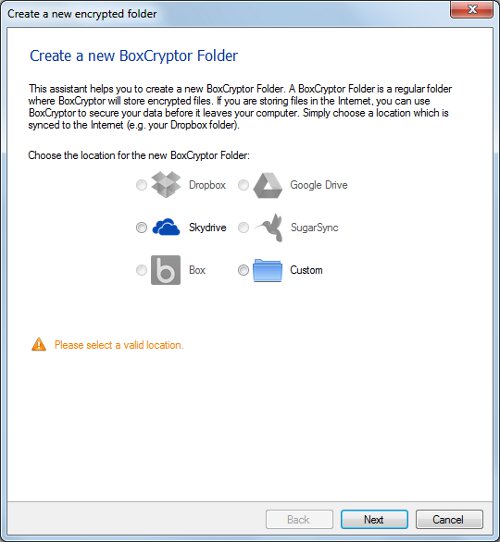 That means your encrypted file can't be opened by any other person on any other machine. To access your files on any other machine just install your cloud storage and also the BoxCryptor software on them. While you run the program on the new machine, you need to choose "Open Existing" instead of create new. Keep your password ready.
Any doubt? Post in comments.
fonte: https://infoinspired.com/how-to-guides/how-to-secure-your-important-cloud-storage-files-with-encryption-ultimate-tutorial/